the GALLERIE
ABOMINATE
MAUL ON SPEED AND ICE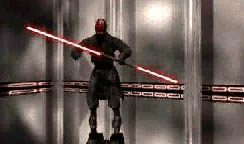 Yes, good old star wars again and this time its every kid of today's favourite baddy, Darth Maul. If you are new to character animation, for God's sake, don't animate like this. Let this be an early warning lesson in how not to keyframe motion. Still, makes for very amusing viewing given that some aspects of the rendering do show at least a pallatable level of competence. I especially like the way he lifts his leg high and does a lovely 180 degree spin about a very very suspicious pivot point. Like I said - Maul on speed, and also on ice.
MAIL ME YOUR CAPTION FOR THIS ANIMATION
"thats not bad animation, he is using the force"........ from vegan
I'd sure as hell stay away from this Darth Maul! Much more scary than the one in the movie!........... from Coleen
Hey, watch out...you'll take someones eye out with that!!!
Help, the hampster can't get out and it's starting to panic!!!
"..Pinnochio eat your heart out!! You can't even see my strings!"