the GALLERIE
ABOMINATE
NURBS NIGHTMARE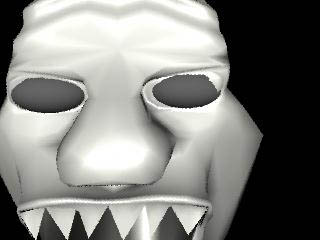 Speaks for itself this one. You'd wouldn't be hard pressed to believe that skilled animators are making these images up on purpose to get into the gallery - they are that bad. 'Fraid not though, this like all the others started life with a genuine will to be technically and creatively outsanding.Here's an important message from the anonymous sender:

"This person just spent $15,000 for an NT workstation and also paid for full licenses of Softimage and Maya, thinking this will increase his/her abilities as a 3D artist
this person is a self proclaimed graphic artist, illustrator, and now he/she is a "skilled" 3d modeler and animator. here is an image he/she did after 1year of intensive Softimage training, followed by one year of intensive MAYA training...I will post more when I come across them
I wish to remain anonymous.
thank you."
MAIL ME YOUR CAPTION FOR THIS ANIMATION
Help! My serated teeth bit off the rest of the page!.......... from Joshua
"Shit ! Where's my origami book ?"..... Jim Meston