the GALLERIE
ABOMINATE
RESIDENT EVIL 3 SUFFERS POOR SALES DUE TO RIVAL GAME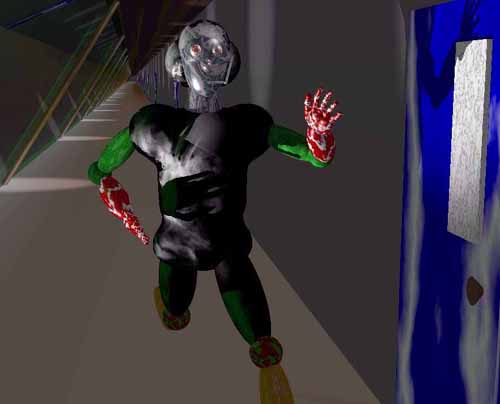 Well if you haven't laughed by now you've got a problem ! This cyborg zombie really does push everything to the absolute limits. When I had the idea for the Gallerie Abominate I never envisgaed it affecting my sleep and personal life. After seeing those textures I don't think my existence will ever quite be the same somehow.
MAIL ME YOUR CAPTION FOR THIS IMAGE
"Francis Bacon try's his hand at 3D!" from Dave Baileywait!
"don't go in there....look what happened to me!." Darin Hilton

"Help MEEEeeeee, Look at what the pirated plug-ins did to me AAaaaarrg!!!!! " Styles

"C3PO just getting of the Event Horizon!" from JG
OI! stop and give me back my mouth!................... colin