the GALLERIE
ABOMINATE
MAYBE TADPOLES EVOLVE INTO KANGAROOS ON THIS PLANET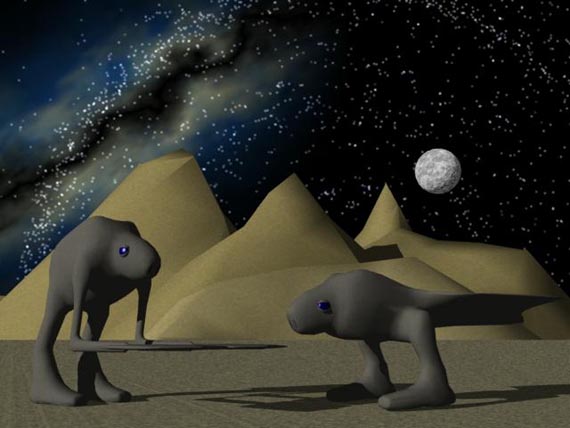 Interesting ... I see vague references to the T1000 murder scene in Terminator 2 (metal extended hand through head etc.) and undertones of the work of Henry Moore. Check out these real guestbook comments from viewers of this artists web gallery:
"Very cool idea. I don't know about the long arms on the guy on the left. I like the idea of seeing life on another planet. A little more sci-fi than fantasy, but still I find it pretty cool."
"They look like land-dwelling tadpoles with legs. Maybe on this world tadpoles evole into kangaroos? :) I like the space background too."
"I dunno what they are, what their purpose is, or what they're thinking, but they sure as heck are adorable and look great!"
MAIL ME YOUR CAPTION FOR THIS IMAGE

"Didn't YOU bring the doughnuts?" from Craig Marshall

"well you see, I was taking a shit one day and I thought, hey, wouldn't it be cool if..." from Adrian

"To me its still a mystery what god thought of when he designed my arms" from Johan
Now bend over... this won't hurt a bit. :o)>................ Lance
"Go ahead....pull my finger."
Aha! a fork-lift!... Gonzo
"For the last time, I'm not eating anything that came from your rectum!"