the GALLERIE
ABOMINATE
A transport ship flying over hostile territory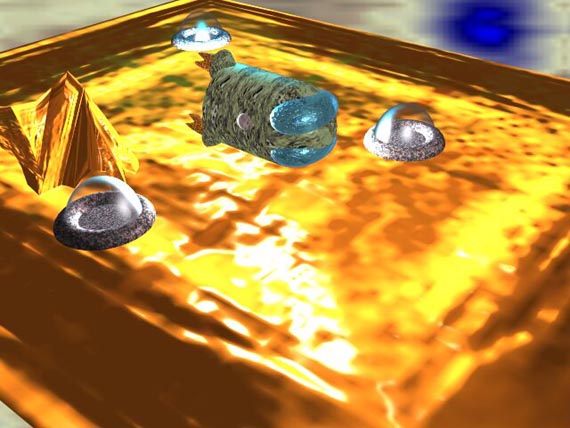 Once again, the artists title - not mine ! And a truly hostile territory indeed if I may be so bold as to say so myself. I hope he comes out unscathed. There's nothing quite like a complex multi-layered plot to enhance your 3d renderings.
MAIL ME YOUR CAPTION FOR THIS IMAGE
"The Scrubbing Bubbles escort a flying enemy meatloaf into their heavily armed stonghold."
from Andy Makely
"flying ashtrays mingle with frog-o-poid over tacky undulating golden pond" from Matt Groening

"Captian, Quick, do something!!!! The cube sun is sending out deadly scrubbing Bubble Probes!" Jim Slackercat

"Alien leper frog fly completely baffled by decoy empty serving dishes, flies right over gelatin lasagna" from Curt Thurston
OK. Who pissed in the pool?........... lance
Honey, I could be wrong but I think it's time to toss out the butter!!!.............. Tony
"Quick,....we must escape from the killer lasanga "
" Yep..... This must be it! The 2nd annual fetish piss party!!!"