the GALLERIE
ABOMINATE
Take Me Out...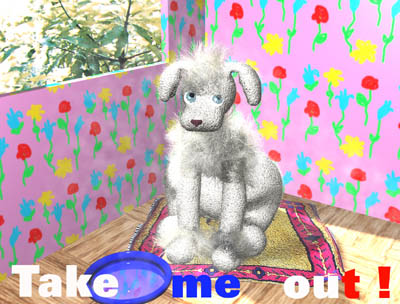 What a sad bastard. The GA proves that its easier to make a character look utterly suicidal than even vaguely content or emotionally stable. This poor little sheep/poodle combo lives in a kennel made from floral toilet paper some 2mm thick, has a scant supply of fluids and one measly Quality Street wrapper as a bed. At least outside in the "real" world, conditions look a little more healthy for him.
MAIL ME YOUR CAPTION FOR THIS IMAGE
...and shoot me Sean
"Yes, take me out - with a bazooka"............. Todd (one of the best so far...jackal)
... preferably with something high-calibre. (James)
middle america 3d at it's finest
"i promise i will never piss on the flying carpet again"